USA
The Zedlitz living in the U.S. today are descendants of three different immigrants.
Carl Richard Theodore ZEDLITZ
Carl Richard Theodore was born in 1832 in Striegau, Schweidnitz county, Silesia. On 7th November 1849 he left Bremen on board the "Hershel" and arrived at Galveston, TX on 20th January 1850.
In 1859 he married Louise Adelgunde Maria HILDEBRAND (1841-1906) and together they had ten children:
Mary Louise Agnes (1860-1931)
August Fredrick Julius (1862-)
Fredricka Clara (1863-)
Anna Matilda Ida (1866-1868)
Christopher Carl (1868-1900) *
Richard Edward (1870-1956) *
Conrad Jacob Theodor (1872-)
Maria Jacobine Louise (1872-1937) *
George Arthur Ernst (1874-1941) *
Herman Otto Rudolph (1883-1953) *
Carl Richard Theodore died in Paige, TX in 1898 at the age of 65.
Today his descendants (marked with a * in the list of his children above) live in Texas, Oklahoma, Louisiana and neighbouring states.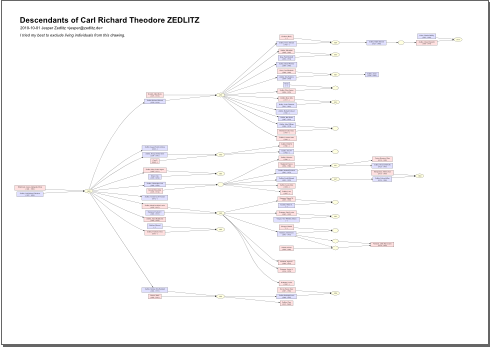 Friedrich Rudolph Wilhelm ZEDLITZ
Friedrich Rudolph Wilhelm (1851-1926) immigrated to Connecticut in 1878. His descendants live in Connecticut and North Carolina.
Ernst August ZEDLITZ
Ernst August was born in Kanth, Breslau county, Silesia in 1880. He lived in Berlin before he left Hamburg on board the "S.S. Saxonia" on 24th April 1923. He arrived at New York on 7th May 1923. He owned a butcher's store in Toledo, OH. At least three children originate from his marriage with Maria Hilda Therese PIOCH:
Hubert August Wilhelm
Herbert Ernst (1907-1990)
third son
Other emmigrants
Besides these three emmigrants who's descendants are known there were a couple of other Zedlitz-immigrants in the U.S. A connection between these and living Zedlitz is still unknown.
Carl Richard Theodore ZEDLITZ

departure: 7th November 1849 Bremen
ship: Hershel
arrival: 20th January 1850 Galveston, Texas

Friedrich Rudolph Wilhelm ZEDLITZ

arrival: 1878 Connecticut

Rudolf ZEDLITZ (* ca 1849)

occupation: smith
departure: Rotterdam
ship: Rotterdam
arrival: 26th November 1879 New York

Onfro ZEDLITZ (* ca 1853)

origin: Poland
departure: 1. Mai 1882 Hamburg
ship: Roland
arrival: New York
travels with his wife Helene (* ca 1862)
source: state archive Hamburg,  373-7 I, VIII B 1 volume 050, page 721

Maria ZEDLITZ (* ca 1865)

origin: Obergener
ship: Prave
arrival: 1892 New York

Hugo ZEDLITZ (* ca 1862)

occupation: countryman
origin: Güstrow, Mecklenburg
supposed to live in Altona, Schleswig-Holstein in 1923
ship: Russia
arrival: 1893 New York
source: state archive Hamburg,  373-7 I, VIII A 1 volume 086, page 1077

? ZEDLITZ (* ca 1859)

occupation: officer
departure: Bremen
ship: Spree
arrival: 15th Juni 1893 New York
traveled together with his wife (* ca. 1868) and his sone Georg ZEDLITZ (* ca. 1891)

Robert ZEDLITZ (* ca 1863)

ship: Britannia
arrival: 24th August 1894 New York

Emma ZEDLITZ (* ca 1843)

occupation: farmer
ship: Trave
arrival: 13th August 1896 New York

Adolf ZEDLITZ (* ca 1873)

with his wife Bertha (* ca 1876)
and his son Adolf ZEDLITZ (* ca 1899)
immigrated to the U.S. in 1905
source: census 1910 in Mead, Spokane, Washington

Aagot ZEDLITZ (* ca 1886)

ship: United States
arrival: 1919 New York